Have you ever been looking through a magazine or flicking through the TV and seen what can only be described as a rock on a celebrity's finger and thought to yourself, wow that's some sparkler ! With the average person spending between €1,000 to €4,000 its time to sit back and be shocked by how much celebrity's will spend to show their love.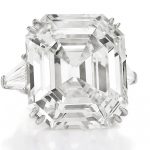 Starting with the most expensive and it was a little surprising who its owner was. Valued at an incredible 8.8 million dollars is the 33.19 carat Asscher cut Krupp diamond given to non-other than Elizabeth Taylor by the famous Richard Burton. Certified at type IIa diamond it is the most chemically pure diamond that you can get. It was auctioned by Christies in 2011 to an un-named buyer.
Next up we have the single ladies singer herself, Beyonce, who is sporting an 18 carat flawless octagon cut diamond given to her by Jay Z. Set in a platinum base the ring itself was designed by Lorraine Shwartz, and is valued at a staggering $5.5 million. He definitely put a nice ring on it!
When Grace Kelly married Prince Rainer of Monaco you'd wonder if she knew just how much her ring would be eventually worth. This legendary Cartier designed 10.7 carat emerald cut diamond is worth $4.06 million today. Bordered by two diamond baguettes it truly is a stylish ring.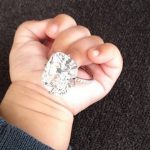 The Kardashian family are everywhere, and love her or hate her there is no denying that Kanye West spent a tidy sum on his engagement ring to Kim Kardashian. It is reported that the rapper spent between $2.5 and $3 million on the 15 carat rock designed by Lorraine Shwartz. This lady is the only person to make our list twice as her 20.5 carat engagement ring given to her by Kris Humphries cost an estimated $2 million.
Jacqueline Onassis was a woman who was known for her taste, and her engagement ring from Aristotle Onassis was definitely in keeping with this reputation. Her 40.42 carat diamond ring was so unique that it was one of 16 cuts made from a 601 carat diamond that was found in South Africa. The ring was actually only worn by Jackie twice and for the rest of the time remained in the vault at the bank of New York. Today its value is a cool $2.6 million.
To add a pop of colour into this expensive list is Mariah Carey's engagement ring by Nick Cannon. The 17 carat pink jewel is said to have cost the comedian $2.5 million
We have left the most famous and the ring valued the least amount of money till last, Kate Middleton's engagement ring. This incredible 12 carat blue sapphire with 14 diamonds surrounding it was originally bought for Princess Diana in 1981 for an expensive at the time £28,000. Originally the engagement ring of Prince William's mother Princess Diana, the ring was worth £28,000 when bought in 1981, but is now valued at £300,000.
Rachel Byrne