February is a month well known for marriage proposals, from the bizarre to the brilliant; couples from all over the world have unique ways to signify their love and commitment to each other. With the world of social media and technology we've gathered some of the most incredible marriage proposals into a one stop shop to help you get some special ideas.
First off we have Jack Hyer from America met his girlfriend Rebecca in college and after their first date wrote in his travel journal that he was going to marry her eventually. He spent the next four years traveling around 28 different countries, some with her some without and all the while piecing together his marriage proposal video. The video was shown to her at their college graduation and is one of the most unusual and heart-warming proposals that I've seen.
Planning a trip to New York or somewhere exotic this year, perhaps you plan to go to one of the most magical places on earth Disneyland Florida. Well no snapshot of unique marriage proposals would be complete with a flash mob, and while it was extremely difficult to pick just the one, this one definitely symbolises true love, shock and amazement. With over eleven million views this video in 2011 Jamin got together his close friends and created this amazing display of love for his fiancé.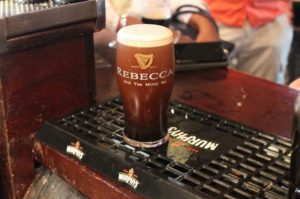 To finish off this snapshot of unique proposals we go to Temple Bar in our very Dublin city. In particular to The Temple Bar pub where on the 24th of June, Laurence and Rebecca were having a quiet drink, unbeknownst to Rebecca however was that she was about to get the sweetest pint of Guinness that she would ever have.
One thing that these proposals show is, that no matter how long you're together, or where in the world that you are the most unique marriage proposal is one that is heartfelt and personal. Whether it is a flash mob in the middle of Times Square or a candle light dinner in the privacy of your own home, at Voltaire Diamonds we have the perfect ring for that magical moment.