What is not to love about a pear cut diamond? Pretty, elegant and timeless, pear cut stones have been employed in jewellery over many years.
Pear cut diamonds make for popular engagement rings. Victoria Beckham, Anna Kournikova and Katherine Heigl all sport pear cut diamond rings. Below we outline our top tips for buying your dream pear cut diamond ring.
Our top tips for picking the perfect Pear
Look for a high Colour stone
Pear diamonds are most beautiful in colour grades D – G. If you're planning on setting the diamond in yellow gold or rose gold, then there is more scope to go lower on the colour, as the metal will negate slight yellow tones in the stone.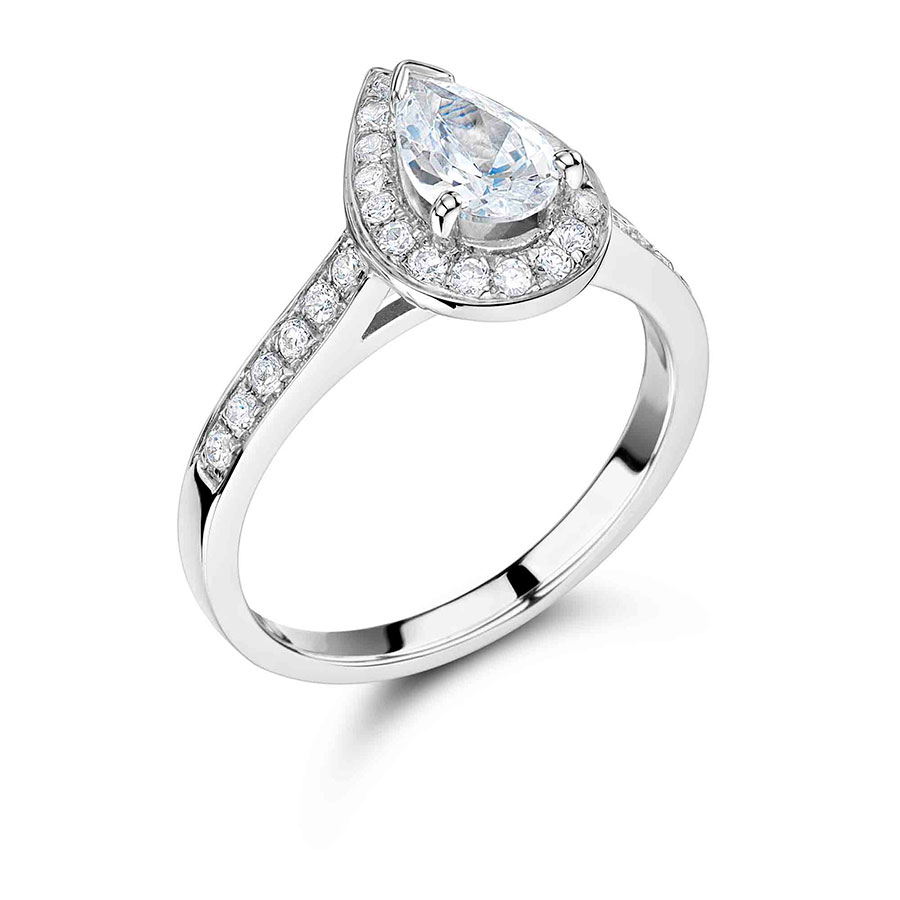 Look for a well cut stone
As with other diamonds, cut is really key here. Possibly the most pressing concern regarding pear shapes is whether or not a stone has a bow tie effect. Look for diamonds with very good symmetry. Remember that the point should line up with the apex of the rounded end of a pear-shaped diamond.
Look for a well proportioned stone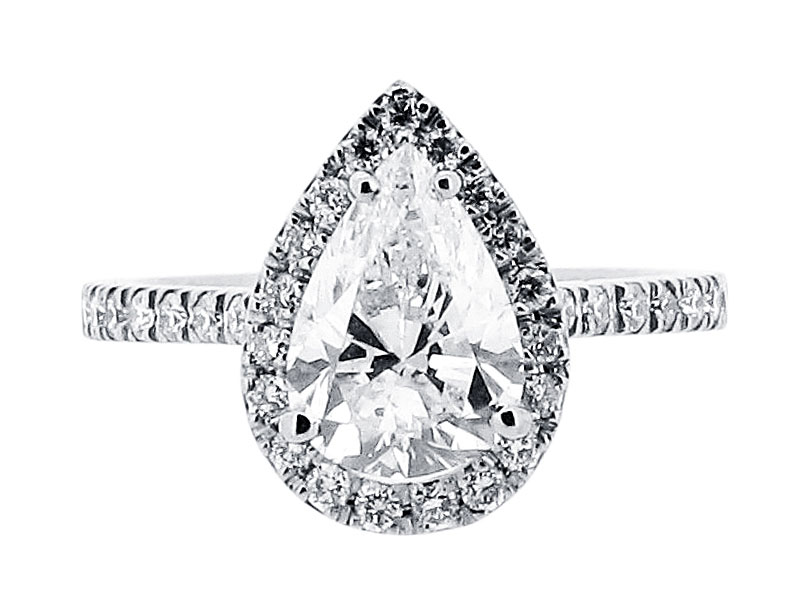 For the most traditional pear-shaped diamond, look for a length-to-width ratio between 1.45 and 1.75. This ratio creates the perfect, most pleasing shape for your engagement ring!
When considering the design, think about if you want to wear the ring point up or point down
Most designs can be worn either way, however if you have a particular design in mind and still want the option of wearing it both ways, make sure this works on your finger. Some pear cut settings may be wedding band fit on one side and not on the other. Check this out in advance too and think about whether you may want to wear a ring alongside your engagement ring in the future.
Choose a setting that protects the point of a pear shaped diamond
The very sharp point of a pear shouldn't be exposed so as to avoid chipping etc. Due to this vulnerable point, a V-shaped claw is often added to protect the pear's point. This claw offers the best protection for a pear cut diamond and prevents the point from exposure. It is also not uncommon to see pear-shaped diamonds set with 6 claws.
Make sure that you are 100% committed to a pear shape
Remember that you are making a lifelong commitment when choosing your engagement ring.
While we don't advocate for playing it safe, we definitely advise you to be 100% happy with your choice of engagement ring.
Don't Buy Unseen
If at all possible, always try to view your pear-shaped diamond prior to purchase. Lighting angles in photos and videos can often disguise inclusions, poor symmetry and the infamous bow-tie effect. These are all very important factors that should be considered prior to purchase. It is always best practice to view a diamond before handing over your hard earned money.
For more top tips on buying a pear diamond, please see below:
https://4cs.gia.edu/en-us/blog/pear-shaped-diamond-tips-picking-perfect-one/
Do you love pear-shaped diamonds? Browse through our beautiful range HERE.