There are many occasions and milestones that couples can celebrate with jewellery, from birthdays to Christmas, engagements to marriage or anniversary's. The right piece of jewellery is timeless and can be passed on throughout the ages. Eternity rings could be seen to be a modern idea to resemblance to the everlasting love shared between two people traditionally at a milestone anniversary; however the idea of the eternity ring has been around for a number of years, since the Egyptian times in fact.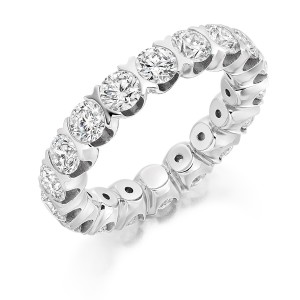 Whilst the Egyptians didn't necessarily use these rings to commemorate a specific occasion, they were said to have used them simply as a token of both eternal love and life. Early examples in history have found eternity rings were made of a rather ordinary circle of metal, precious or otherwise. They were set with stones either on the top half of the ring or running the entire circumference of the ring. The earliest examples of these rings were designed in the style of a snake devouring its own tail which commonly symbolised eternity which was often referred to as the 'ouroboros'.
For couples who insist on sticking to tradition, the diamond eternity ring would be appropriate for your sixtieth anniversary, when diamonds were considered an appropriate gift. On the other hand good luck getting your spouse to stick around for 60 years after you've given them the traditional piece of wood for your fifth anniversary followed by a piece of tin to celebrate your ten years of marriage.
Only in recent years did the original symbol of the eternity ring develop with it now commonly representing the circle of life, being given when the couple welcome their first child into the world by birth or adoption. With this new meaning in mind an eternity ring in today's society can be used to celebrate the times couple have spent together in marriage or the time family life begins. Either way, an eternity ring can be just as meaningful as an engagement ring and just as momentous as a wedding band.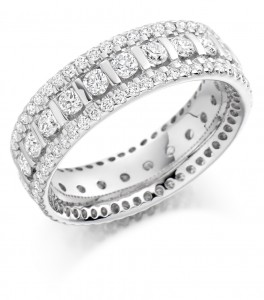 Diamonds are the most popular gemstones for eternity rings, but rubies, sapphires, emeralds and other stones are also popular, usually in conjunction with diamonds. Although the "full" eternity is traditional, there are many reasons why it is not frequently seen one of which is that it is normally custom made. It cannot be resized normally to fit a person's finger making an eternity ring all the more special and unique to the wearer.