When you begin your search for engagement rings you will- or likely already have- encountered a huge list of vocab that you're only hearing about now for the first time. Solitaire is no longer just a card game- nor is a halo found solely ontop of an angel! Likewise, a princess, baguette and cushion are no longer what you thought they were- welcome to the world of diamond shapes!
We have put together a selection of engagement ring styles to help get you started on your search- either if you're just beginning but also to help polish up your knowledge if you're a seasoned diamond lover.
Solitaire
The classic solitaire is one of most popular styles that you can be sure will stand the test of time. Most people will associate the solitaire style with a round centre diamond, however any diamond shape looks stunning in this elegant and understated setting- be it oval, emerald, cushion, radiant or princess (to name a few).
The solitaire style engagement ring looks stunning with both plain shoulders (i.e a plain band) or with diamonds along the band (which we call melée diamonds). Each melée diamond is usually made up of 0.01-0.02 of a carat; which may sound small, however once the stones are lined up along the band they pack a serious punch!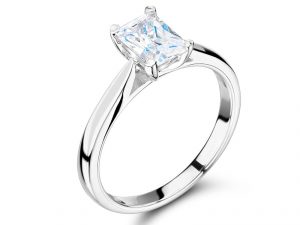 Halo
The halo style of engagement ring is perfect for a woman who doesn't shy away from a touch of extra sparkle. The halo can come with a single row of diamonds surrounding the centre stone or a double row. The major advantage of the halo is the illusion of size that it adds.
The most common shapes of halo rings are round, cushion and oval styles, however a radiant and emerald shaped diamond or gemstone also looks stunning when framed with a row (or two) of added diamonds or coloured stones. We love Katherine McPhee's beautiful platinum engagement ring, with a yellow centre diamond and pink pave diamonds.
Trilogy/multistone
When one diamond just isn't enough… Multi-stone engagement rings have gained significant popularity over the last number of years, due in part to their flexibility in design. The options are endless with three stone rings as you can alter each stone's shape and even gem type. While three uniform diamonds are perhaps the most common arrangement, we have also designed diamond/sapphire, diamond/ruby and diamond/emerald three stone rings for clients in the past which look fantastic in any cut type. Usually the diamond is placed at the centre and is flanked by the two coloured stones but this arrangement can of course, always be reversed depending on our client's wishes.
Different diamond and/or gemstone shapes can also look stunning in a three stone engagement rings. Visually, bespoke alternating design shapes tend to look best when you combine straight-edged shapes with other straight-edged shapes, while more round or 'softer' shapes work best with their similar counterparts. For example. A rectangular or emerald cut looks beautiful with two smaller rectangular shapes cuts or straight baguettes, whereas a centre oval shape will be best complemented by round side stones. Pear cuts work very well as 'accent stones' with any shape as well as tapered baguettes- which lead beautifully into the main stone, regardless of shape.