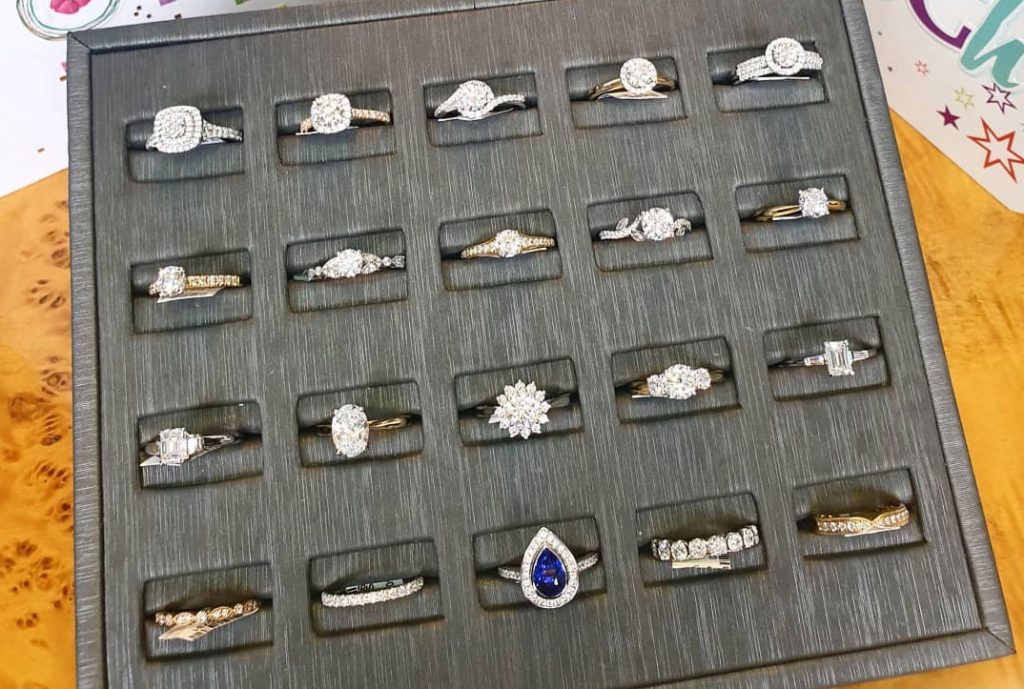 Art Deco Style Engagement Rings
Perfect symmetry, clean lines, geometric shapes and striking gemstones are all hallmarks of Art Deco inspired jewellery. At Voltaire diamonds we are lucky to have a vast selection of Art Deco style engagement rings.
Here we look at some of the characteristic features of Art Deco design and detail some of our finest engagement rings.
No. 1
Emerald Cut Diamonds:
Art Deco style and emerald cut diamonds go hand in hand. The clean lines of this step cut diamond lends itself perfectly to the designs of the Era. While most Art Deco rings were fashioned in platinum or white gold, this style can be given a contemporary twist by employing yellow or rose gold.
Our Emerald Cut Pave Halo Engagement Ring – ER 1389
Featuring pavé set diamonds with a cut-cornered halo, leading to a pavé set band, this classic ring strikes the perfect balance between modern and Art Deco style. Completed by a reverse tapered diamond set band, this ring is sure to get lots of attention.
Geometric Patterns
Geometric patterns are a distinctive feature of Art Deco designs. The preceding Art Nouveau period was all about swirls and soft, fluid lines. When the Art Deco style came into vogue, these soft lines were quickly replaced with strong, bold lines and geometric shapes were the favour of the day.
Our Emerald Cut Double Halo Engagement Ring – ER2515
Featuring a central emerald cut diamond, embraced by two scallop set diamond halos, this style speaks elegance in abundance. This striking engagement ring design is completed by a streamlined scallop set band. This style also looks spectacular with a coloured gemstone centre.
Pavé Settings
Pavé is a type of bead setting technique that packs gemstones so closely together that they take on the appearance of a 'paved' surface. This setting largely evolved during the Art Deco Era and always looks elegant and sophisticated.
Our Emerald Cut Pave Double Halo Engagement Ring – ER 2020
With a central emerald cut diamond at it's heart, this engagement ring is sophisticated, elegant and heart stopping. The central stone is embraced by two rows of pavé set diamonds, separated by millegrain detail and further completed by a millegrain edge.
Set unto a plain band, this ring is for those of you that are not shy of glitz and glamour!
Tapered Baguettes
Art Deco jewellery features tapered baguette cut diamonds in abundance. With long sides that angle inwards, they are bold and symmetrical in the manner of the Art Deco style.
Emerald and Tapered Baguette Engagement Ring – ER 1200
Nothing speaks more of understated elegance than this beautiful engagement ring. Featuring a central emerald cut diamond, this ring is set apart by the addition of tapered baguette cut diamonds on the shoulders. Finished with a polished band, this ring is for those of you that like simplicity, elegance and poise.
See HERE for examples of our gorgeous Art Deco style engagement rings!
To read more about the Art Deco movement, see HERE